Collapsible Bunds and Spill Containment
Portable spill bunds are crucial for businesses, especially with the growing compliance requirements and for protecting the environment by containing spills and leaks in industrial or commercial facilities. Enviro Concepts offers collapsible bunds that can be used as temporary storage, vehicle washing, maintenance and spill containment. Along with the heavy duty collapsible bunds, we also offer semi-permanent bunds and spill mats.
Collapsible Bunds
Collapsible bunds can be used for spill containment so that liquids, oils and chemicals don't flow into the environment. Some of the features are:
The spill bunds range from heavy duty 900 – 1350 GSM PVC
They can be chemical and oil/petrol resistant
The bunds can be customised to size (from 6m x 3m up to 12m x 12m)
The bunds are available from 1600 to 3000 litre capacity
The bunds are reusable and relocatable and they can be designed for quick deployment
The bunds have self-supporting walls which can be collapsed for easy access
Optional ground sheet or floor protector
Optional drain valves can be included along with the appropriate pump out kits
Contact us for Spill Bunds if you have an immediate query.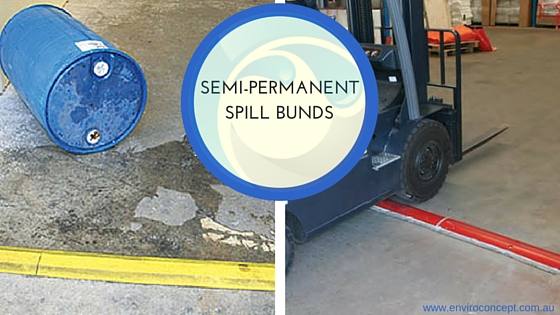 Semi-Permanent Bunds
Semi-permanent bunding is used to create a barrier or containment area for the storage of drums, tanks, machinery and equipment. They can also be used as drive over, floor containment bunds in warehouses and factories. The bunds are tough, chemically resistant, low profile, EVA strips, virtually impervious to acids, chemical oils and fuels. They are heavy duty, self-adhesive, modular bunds and are available in do-it-yourself packages.
Spill Mats
Spill mats can be placed underneath vehicles and machinery to absorb and capture oil and fuel drips and leaks. They are easy to store, transport and setup. Walls are made from an encapsulated, compressible, foam allowing vehicles to drive on and off the bunds.
Facilities that should have bunded areas include:
Storage facilities for chemicals, pesticides or petroleum
Facilities used to transfer stored liquids (such as transport facilities)
Drum storage areas, either temporary or permanent
Electrical transformers containing oil and/or PCBs
Processing facilities
Wineries, breweries and milk processing plants
Any other facilities that store substances other than water or uncontaminated stormwater
Any other locations where spills are common, including transfer points, workshops, factories, service stations, wash bays, etc
For information and estimates on Collapsible Bunds, Semi-Permanent Bunds and Spill mats, contact us.