Trade waste is water that has been used in business or manufacturing activities and needs to be filtered or treated before discharging to sewer. Discharging trade waste to sewer without proper treatment involves operational, environmental and safety risks. For large commercial buildings that have commercial kitchens or businesses producing oily wastewater, processes like grease traps are a little outdated, have a large footprint and may not be sufficient. In this article we explore the challenges faced by commercial buildings in discharging their wastewater and look at some possible solutions we can work on to solve the problem.
What's in Commercial Trade Waste Water?
Commercial trade waste mostly includes greasy wastewater from commercial cooking and contaminated wastewater from mechanical workshops, car washes and laundries. Shopping centres with centralised pre-treatment also produce large amounts of trade waste. Businesses that discharge trade waste include but are not limited to:
Commercial food outlets or manufacturing
Shopping centres
Service stations and mechanical workshops
Hospital and medical centres
Laundromats
Equipment hire companies
Metal finishers
Screen printers and printing companies
Butchers & abattoirs
Hotel, Motel and Resorts
Trade waste water from food businesses contain particles of food, gravy, residues and sugars that is a readily accessible food source for micro-organisms. Pollutants from retail food businesses include solids, oil and grease, organic or biochemical substances that can cause odour and cause corrosion in the sewer pipes. Commercial kitchens also produce high temperature dishwasher release in waste water. The high temperature does not cool sufficiently to allow the oil and grease to separate in the grease trap. This is why oil water separation filtration methods are required.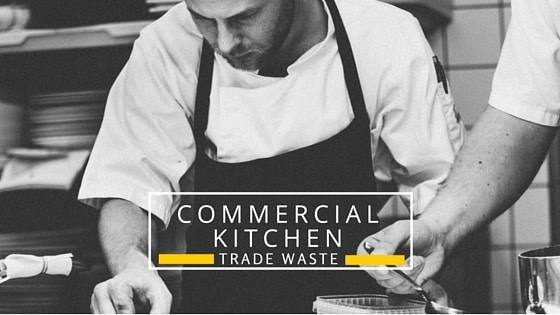 If commercial buildings host businesses in the motor trade, the waste water could contain petroleum hydrocarbons, solids, metals and chlorinated solvents and phenols. Petroleum hydrocarbons like diesel, petrol, solvents, engine oil, grease and degreasers could release flammable or explosive gas at the premises or in sewers. Wash down from vehicle washes can send road grime, underbody mud and engine grit into the waste water. In the sewers, they can form deposits and cause blockages and overflows.
What are The Processes Recommended for Compliance?
When do you need a grease trap and when do you transition into an oil water separator or a Dissolved Air Flotation unit? It all depends on the quality and quantity of trade waste and approval from the local council. As a commercial business, you must continue to meet the pre-treatment requirements, which are usually determined by the quality of output water required.
At Enviro Concepts, we work with clients every day designing wastewater treatment plants and creating estimates for wastewater treatment projects. For example, we have worked with auto workshops to create a skid-mounted oil water separator system that treats the suspended solids, oil and grease in the wastewater. Our SIOS system provides a cost-effective and compliant solution for these businesses.
For shopping complexes and large commercial kitchens, we design our highly efficient Dissolved Air Flotation (DAF) system for highly greasy, contaminated wastewater with suspended solids. The water is treated either for discharge or recycling. Read about the Dissolved Air Advantage and the DAF process in our blog posts.
Most commercial trade wastewater customers need to install and maintain pre-treatment processes. What is your requirement for pre-treatment? Contact us and let us know.