The Wheel Bath is a common sight on many construction and mining sites. Semi-trailers, B-Doubles and road trains can access the Wheel Bath at any time as the bath requires no power, pumps or operators. The Enviro Concepts Wheel Bath allows transport operators the ability to quickly bathe their tyres and remove excess dirt, and mud. Being simple in design and with little setup or preparation time needed, the popularity of the Wheel Bath is growing rapidly.
Wheel Cleaning Equipment
Enviro Concepts manufactures and supplies a range of wheel cleaning equipment including our wheel washes and wheel baths. On construction sites, these systems help prevent dirt and mud leaving on truck tyres from polluting the public roadways. These systems are also used in several industries like mining, quarry, landfill sites, recycling sites, abattoir or animal processing, cement manufacturing plants, council sites and more.
The Enviro Concepts Wheel Bath is constructed as an immersive tyre wash. As the truck goes through the bath, the tyres move through grids and the water bath. The grids help release the dirt from the tyres as the bath helps clean the dust, dirt and soil from the tyres. For sites that have a high movement of vehicles, the wheel bath is a quick and easy solution, provided the truck tyres are lightly soiled and don't need a stronger wash down process.  Check out our Wheel Bath blog post on some benefits of Enviro Wheel Bath.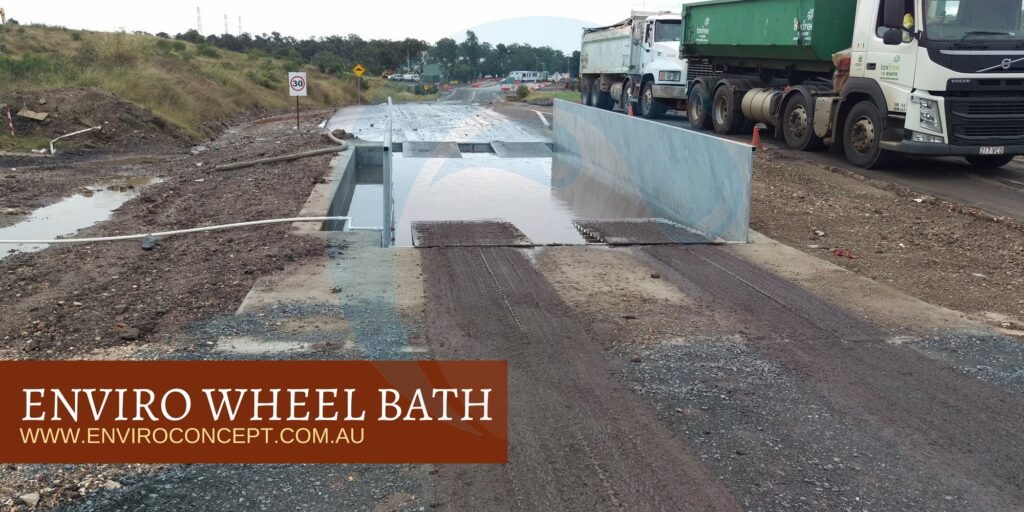 Rumble Grids
Enviro Concepts Wheel Baths can be set in-ground or it can be installed above ground. If above ground, ramps are required on either side of the bath for the vehicles to drive through.
The Wheel Bath can also be fitted with an optional Rumble Grid, which can be easily added between the ramps and Wheel Bath. The Rumble grid has been engineered to shake off dirt and mud from the truck's wheels and undercarriage before the vehicle enters the Wheel Bath. A big advantage of this process is that it prolongs the life of the Wheel Bath water. On sites where trucks become very dirty, we recommend the Rumble Grid to remove most the waste before the vehicle enters the bath.
If you have any other questions regarding Wheel Bath or Rumble Grid please contact us HERE.