All aspects of modern society rely on transportation of people and goods; materials need to be transported for buildings to be constructed, food distribution requires transportation and people must travel to access facilities.  Sooner or later, cars, trucks, trains, containers and even ships will require cleaning. Cleaning such large vehicles and equipment requires a significant amount of water and the use of various chemicals and detergents. These chemicals are harmful to the environment when discharged untreated. Enviro Concepts provides both heavy-duty, above-ground wash bays and wastewater treatment solutions for the transport industry.
Benefits to You
Due to the conditions and locations in which transport equipment is used, they get extremely dirty and the water used to wash them will contain grease and oil. EnviroConcepts multistage reclaim and discharge systems can recycle up to 100% of wastewater.
Water for reuse goes through efficient filtration and decontamination processes. EnviroConcepts inspects and evaluates your operation to find the best solution for you. Our industry standard technology ensures high-quality effluent treatment and disposal of residual substances minimizing environmental hazards. Our vehicle wash pads can be used for cleaning anything from earth moving equipment, forklifts to semi trucks and trailers to helicopters. The above ground portable wash pads can be easily moved and set up inside a warehouse or outside in a car park.
Our closed loop systems require
No permits

No council approvals

No trade waste agreements

No delays
Made from galvanized steel, the wash bays come with a 10 year structural warranty1.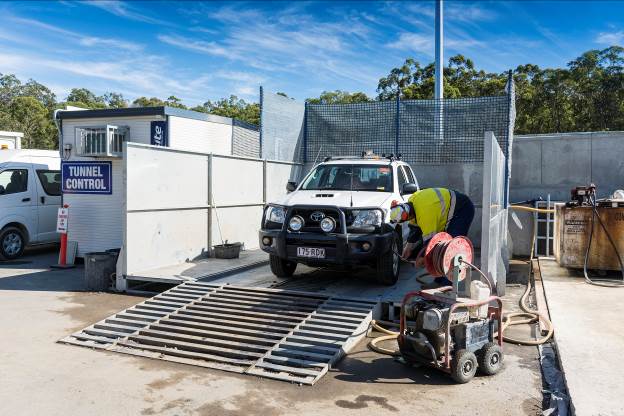 Our strengths
We have acquired extensive expertise over the years. Our systems have the capacity to handle various amounts of wastewater resulting from cleaning processes. Our wastewater treatment and recycling systems can be retrofitted to existing washing plants and our trade waste discharge pre-treatment systems comply with government regulations.
We have the expertise to integrate different solutions to meet the varied needs of our clients and give ongoing support. Get in touch with a representative today and find out how EnviroConcepts can reduce your operating costs.
Contact us for a Free Quote.
1Terms and conditions apply.